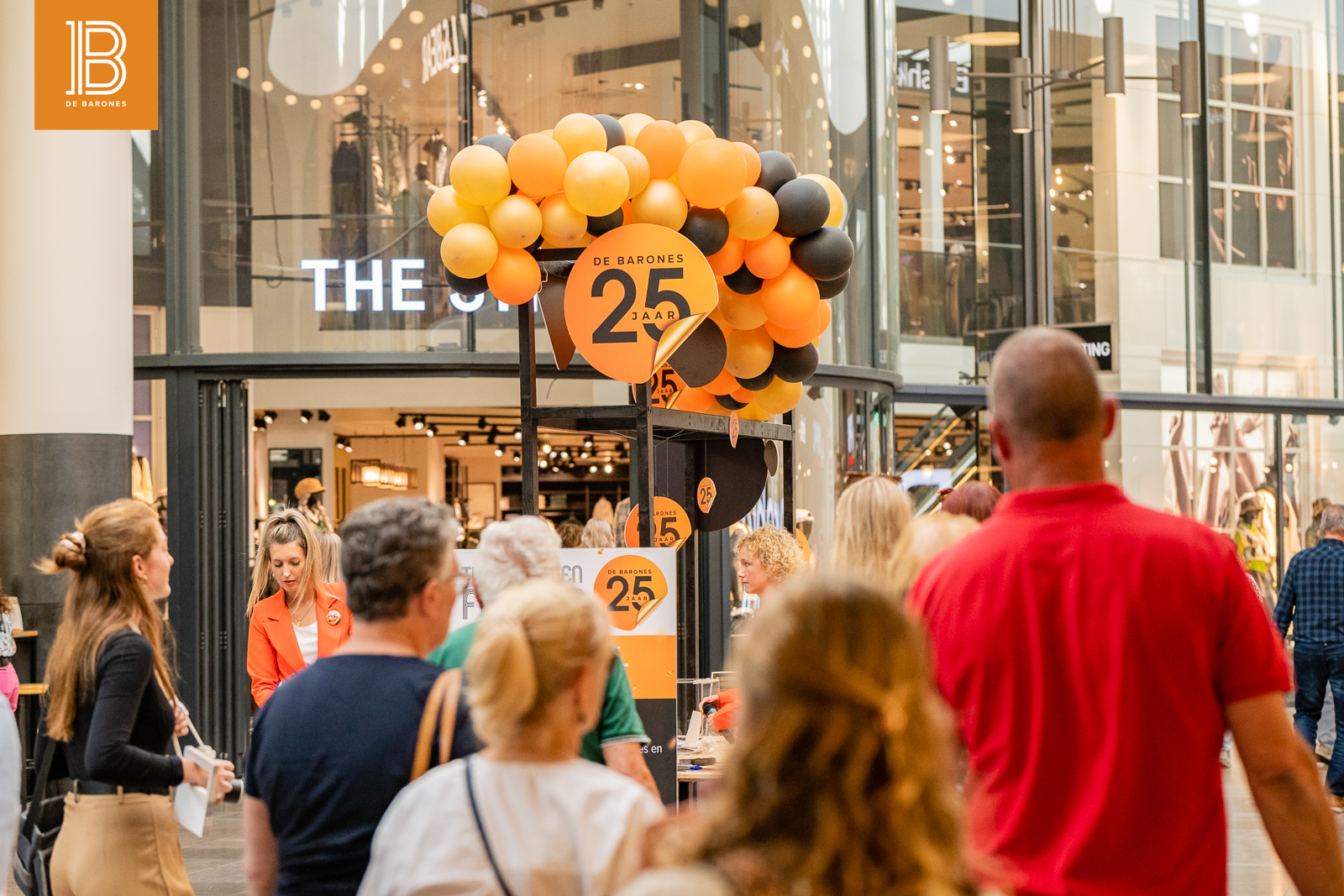 09-09-2022
DE BARONES BREDA CELEBRATES ITS 25th ANNIVERSARY
The Barones first opened its doors on 11 September 1997. This coming Sunday it will be exactly 25 years ago, so this calls for a celebration. Dutch tradition dictates that anyone who is celebrating their birthday has to provide treats and the Barones is going to do so in the form of delicious macaroons, healthy smoothies and attractive drinks bottles. Another even more special treat is that every hour one customer will stand the chance of winning back €250.00 of the money they have spent. People's shopping experience is also going to be enhanced by the presence of a live DJ who will be entertaining shoppers in the Barones on Sunday.
The opening of the Barones in 1997 created a new connection in the city centre of Breda between two important shopping streets, an existing car park and a secondary access road. The building's design was characterised by two pedestrians circuits, one on the ground floor and the main route on the upper floor. Incoming light in the fully covered shopping centre was filtered by a ceiling of skylights. At the time, the new Barones helped significantly in reinforcing the regional function of the entire range of shops in Breda. It was also an award-winning design, because in 1998 the Barones was declared the best shopping centre in the Netherlands by the Dutch Council of Shopping Centers [Nederlandse Raad Winkelcentra] (NRW).
In order to maintain the strong market position in a changed and changing retail market and in order to adapt to new consumer behaviour, the decision was taken in 2014 to transform the largely two-storey shopping centre into an arcade of stores with predominantly two storeys. The characteristic terracotta entrance with its knotted trellis on the Lange Brugstraat was replaced by a recessed glass entrance on an inviting square in line with the streetscape which is dominated mainly by calm light colours. Inside the gallery and bridges on the first floor were removed, as were the escalators/stairs in the hallway. This made the interior light and more spacious and made it possible for the retail spaces to be enlarged. The high-quality façades give the interior a certain grandeur, with the real eye-catcher being the special glass dome at the entrance to The Sting. The transformation was completed in 2017 and the Barones was ceremoniously reopened exactly 20 years after it had first opened its doors to the public. The Barones is home to an attractive mix of brands, with fashion stores such as The Sting, Pull&Bear, Bershka, Sissy Boy and Only, chains such as Etos, Xenos and T-Mobile and local businesses like Tierelantijn and Koffie bij Teun.