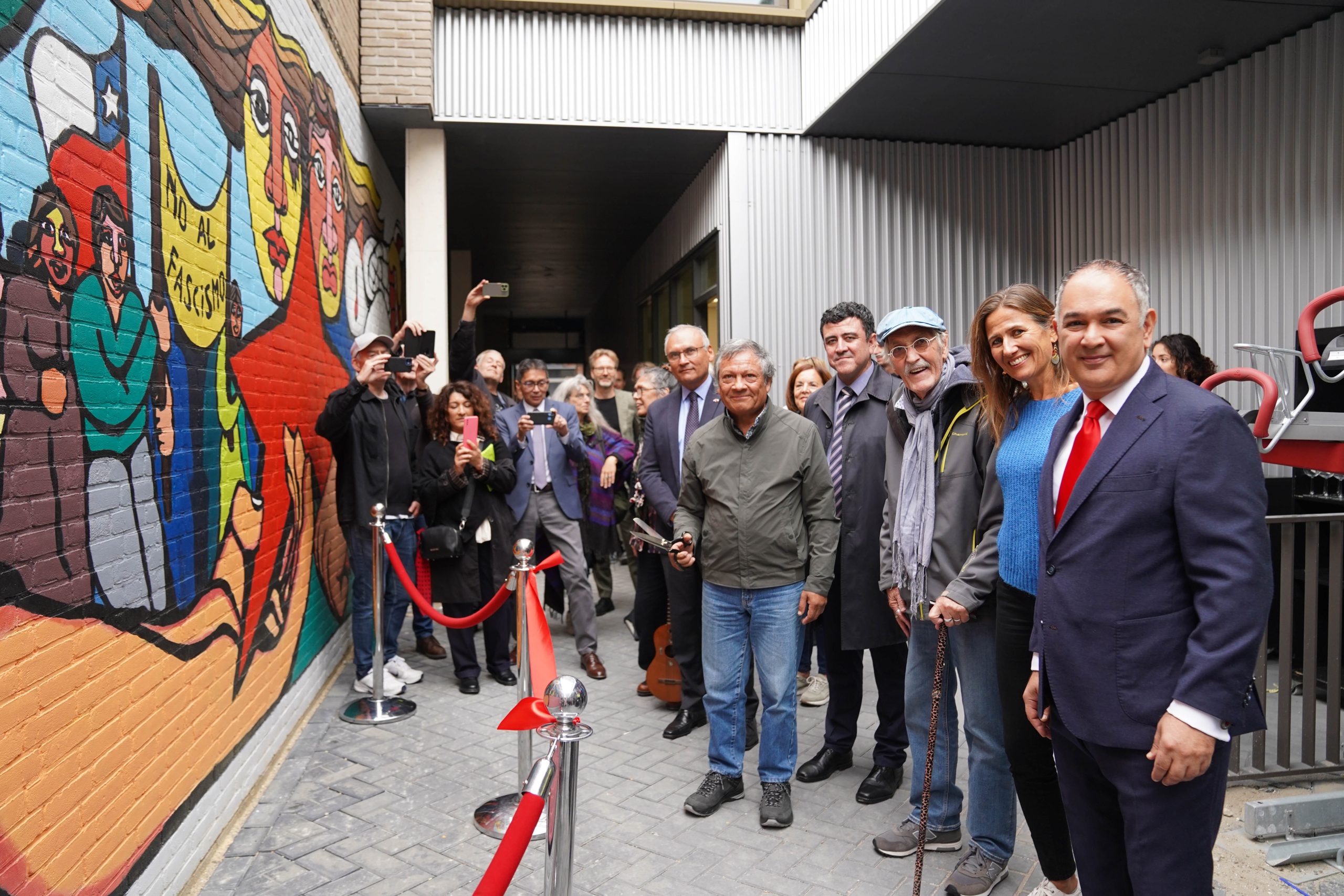 23-09-2022
UNVEILING OF RESTORED CHILEAN MURAL AT OSDORPPLEIN
The restored Chilean mural called 'Chile Vencerá' ('Chili will overcome') has been unveiled at Osdorpplein in the presence of the Chilean ambassador Jaime Moscoso, member of the executive committee of the Amsterdam Nieuw-West Borough Council Nazmi Türkkol, artists Jorge Kata Núňez and Juan Heinsohn and developer MRP. The mural was discovered in 2018 after demolition work and has now, after 41 years, been restored. The mural appears to have been created in 1981 by Jorge Kata Núňez and the Chilean artists' collective 'Brigada Ramona Parra'. The restoration of the mural was initiated and organised by MRP with support from Kroonenberg Groep and the municipality of Amsterdam.
– From left to right: Jaime Moscoso (Chilean ambassador), Jorge Kata Núñez, Guillermo Fernández (Consul General of Chile), Fridjof van den Berg, Annemieke Witteveen (MRP) and Nazmi Türkkol (Municipality of Amsterdam)
Chile Vencerá mural unveiled
The 'Chile Vencerá' mural, which is 20 metres long and 3.40 metres high, was discovered in 2018 during preparatory building work for the new-build project known as 'The Hub' (93 homes, the new Municipal Office and Borough Council Office and a commercial plinth). The mural was created by the Chilean artists' collective known as 'Brigada Ramona Parra', whose members expressed their ideologies for, among other things, democracy and equal rights, through murals. The significance of the colourful work of art is more topical than ever before in our current turbulent world where democracy and freedom of expression can no longer be taken for granted.
Art and culture connects and in Amsterdam Nieuw-West, where so many cultures coexist, this mural at Osdorpplein adds an extra dimension. So it is great that MRP, the Kroonenberg Groep and the Municipality of Amsterdam have contributed to the restoration and preservation of the Chile Vencerá mural so that its significance can be transferred to future generations.'
Art & Culture in Amsterdam Nieuw-West
Jorge Kata Núñez himself confirmed that he created the mural when he happened to be in the Netherlands in 2018. It is very special that it has been preserved and has now been restored. Artists Jorge Kata Núñez and Juan Heinsohn carried out the restoration of the mural in July. It is situated in a courtyard of the new Borough Council Office as part of the new-build project at Osdorpplein known as 'The Hub'. Once the whole project has been completed the mural will be visible from the public space through transparent doors.
As member of the executive committee of the Amsterdam Nieuw-West Borough Council Nazmi Türkkol explains, "Osdorpplein square is an important meeting place for people young and old and requires a broad mix of functions. Facilities relating to art and culture are important in this respect, such as the future Verhalenhuis art and cultural centre and various works of art which have been, or are going to be, installed near Osdorpplein. The historic mural is being given a new chance to be viewed by everyone. It is a colourful and meaningful work of art on display at Osdorpplein and is going to become part of the art trail. "