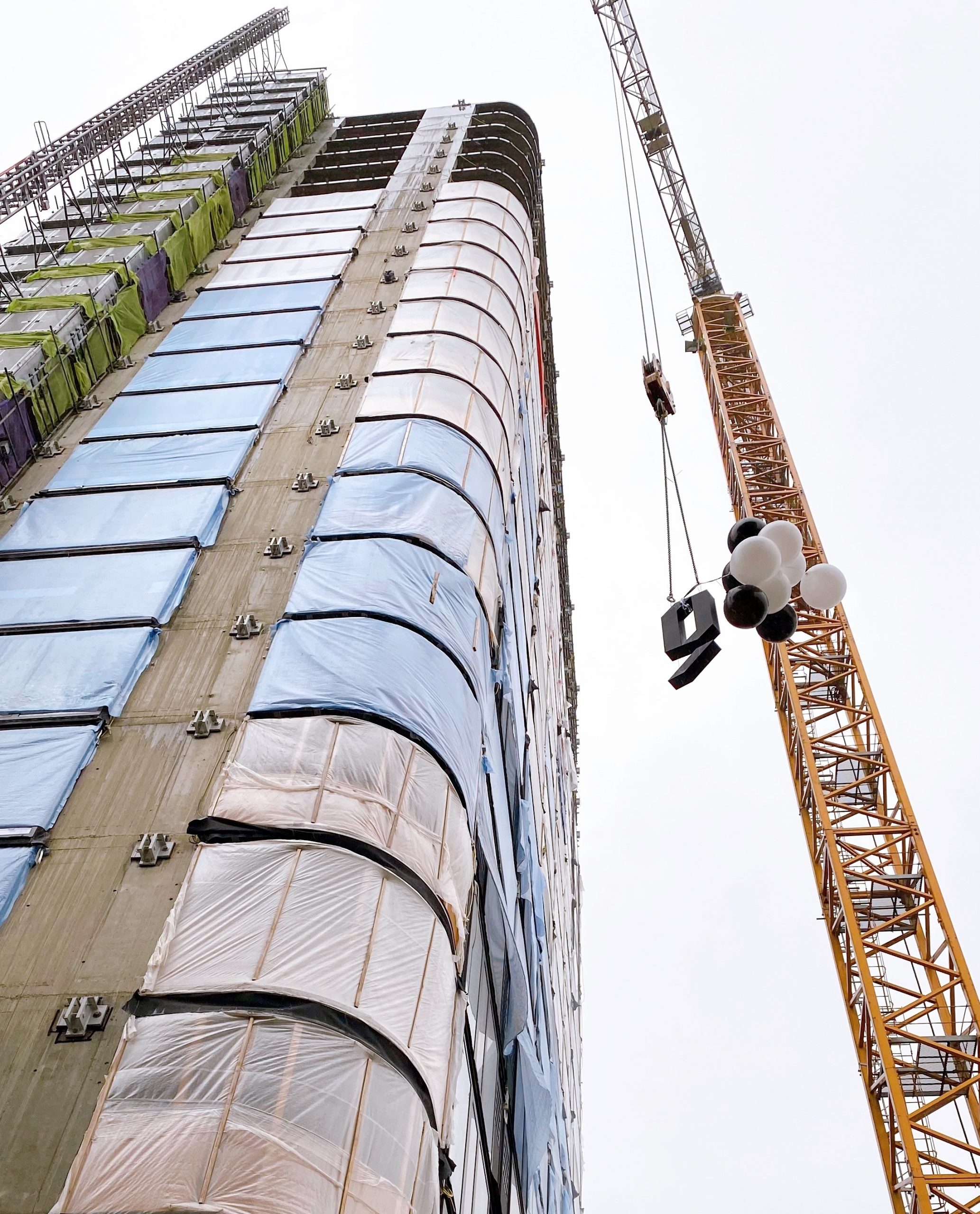 03-11-2021
QUARTZ CONSTRUCTION REACHES ITS HIGHEST POINT
At one of the most prominent locations in Buitenveldert the Kroonenberg Groep is developing a new icon of international allure. Its name is Quartz and this icon has reached its highest point. That milestone was celebrated with the hoisting of a symbolic letter Q during a ceremony attended by architects, the contractor and the developer.
Quartz is part of Q Residences. It is a unique place to live comprising two residential towers. One is the northern high-rise Quartz tower and the other is the southern low-rise Qube tower. The residential complex combines a perfect location with the high-quality architecture of Chicago-based Studio Gang, which is one of the most reputable firms of architects in the world, and Rijnboutt in Amsterdam. Q Residences is a new landmark with 248 rental apartments and a plaza designed by Piet Oudolf in collaboration with Deltavormgroep.
The contractor, JP van Eesteren, is responsible for the construction of Q Residences. As Marco Peppel, director at JP van Eesteren, explains "The construction of this striking building is going brilliantly. You can see the iconic design coming to life more and more each and every day. I'd like to pay my compliments to everyone who is contributing and I'm looking forward to the next phase of construction. We're actually now starting to assemble the graceful, undulating façade elements which make Quartz so attractive. It is a technically challenging job for which we have drawn on all of our construction IQ!"
Lesley Bamberger, CEO of Kroonenberg Groep adds, "Two years ago we met to drive the first pile into the ground. Once the foundations and underground car park had been constructed, building work continued above ground. It was fantastic to see how the two towers rose up higher and higher. At the end of September Qube reached its highest point and now it's the turn of Quartz. The result will be a new iconic addition to the Amsterdam skyline."
NEOO is involved in the development of Q Residences as a delegated developer. In the words of NEOO partner Neno Markovic, "We're proud of the opportunity we've had to construct such a high-quality residential complex with all the parties involved, with a matching high level of service.