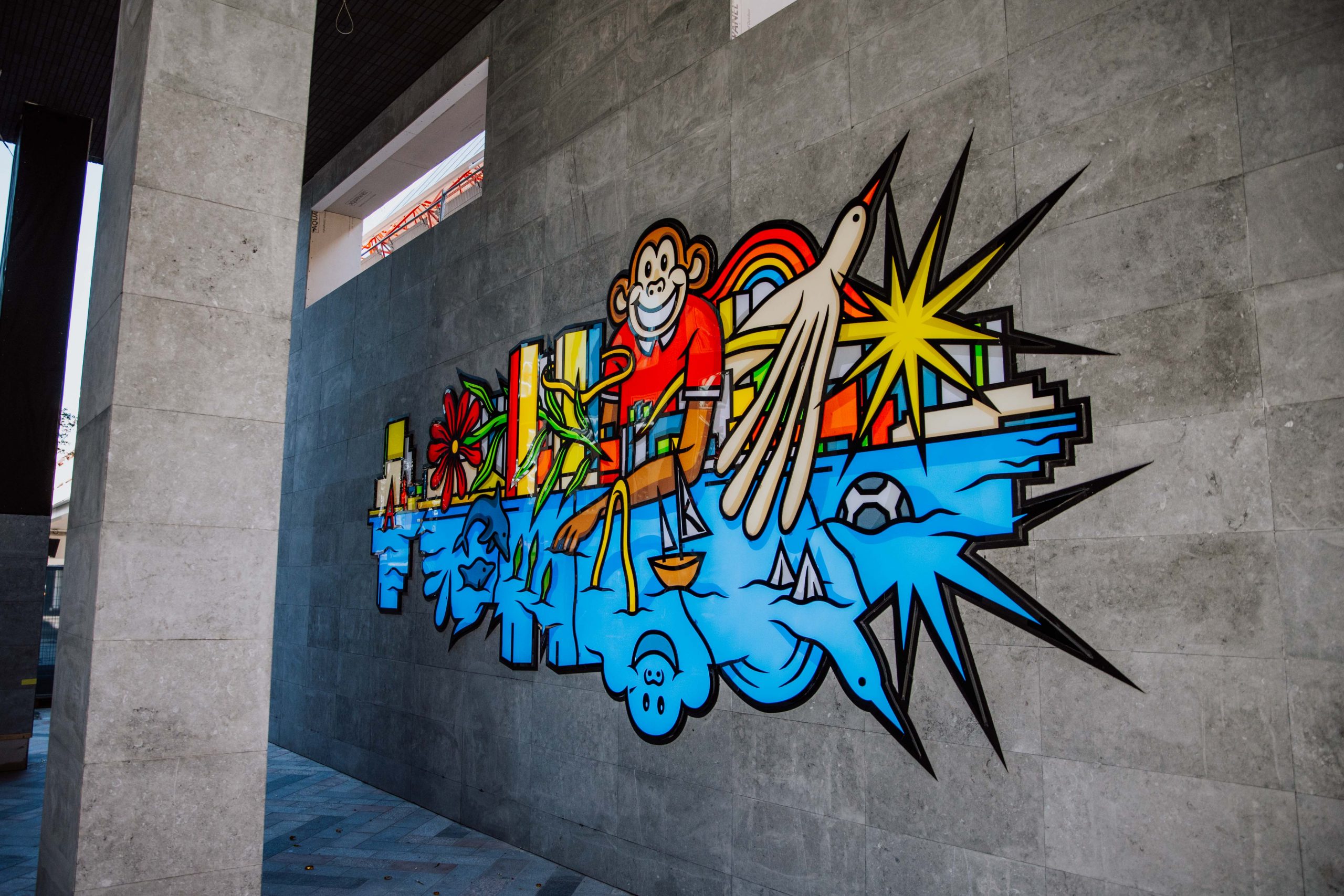 14-07-2022
KROONENBERG GROEP UNVEILS WORK OF ART BY IWAN SMIT IN ALMERE
During a specially organised ceremony Lesley Bamberger (CEO Kroonenberg Groep) Danny Louwers (municipality of Almere) and Jeroen Everaert (Mothership) unveiled the work of art entitled City on the Water [Stad op waterspiegel]. The work is intended to be an experience for shoppers, the residents of the surrounding homes and people passing by from the station. The work of art tells Almere's story and is part of the Sea-Green Promenade [Zeegroene Loper] created by Mothership.
Green is rightly the theme in many towns and cities. Green has a multitude of meanings, for example healthy, sustainable, clean energy, young, not to mention trees and plants. It is an image that any town or city would like to portray and green is therefore not unique. However, Almere does have a unique history because it was built on the seabed. There are few towns or cities that can make that claim. Almere's interpretation of this is the Sea-Green Promenade – an art route which extends from the station up to the Weerwater artificial lake. In collaboration with concept developer Mothership BV, which is known for, among other things, the Market Hall [Markthal] in Rotterdam, various art and cultural projects for the Sea Green Promenade have
been implemented in the centre of Almere.
During the redevelopment of 'Metropool', at the location of the old station offices, Kroonenberg Groep decided to add a work of art in line with the Sea-Green Promenade. A commission was formulated together with Mothership which also fulfils the wishes of the municipality of Almere and fits in with the image of the area around the station.
The wall for which the work of light art has been created, stands in a partially covered passageway which connects the bus station to Station Square. Shops are located opposite the wall, as is the entrance to the homes of the 'Metropool' development. Immediately next to the wall is the main entrance to the renovated station.
As Lesley Bamberger, CEO of Kroonenberg Groep, explains, "We often add art to our projects. Art adds something to the experience of visitors to an area. It inspires and sometimes also encourages them to embrace new ideas. We are very pleased with Iwan Smit's work of art which uniquely portrays the key elements of the city of Almere. It is a work of art which you can keep looking at and in which you will continually discover new elements. That makes it particularly special."
Iwan Smit's work navigates between serious themes and lightheartedness and this often produces colourful worlds with a dark twist. His inspiration for City on the Water were the elements that define Almere, varying from its skyline, football, the Ally de Aap football mascot and, of course, the ever-present water and greenery.