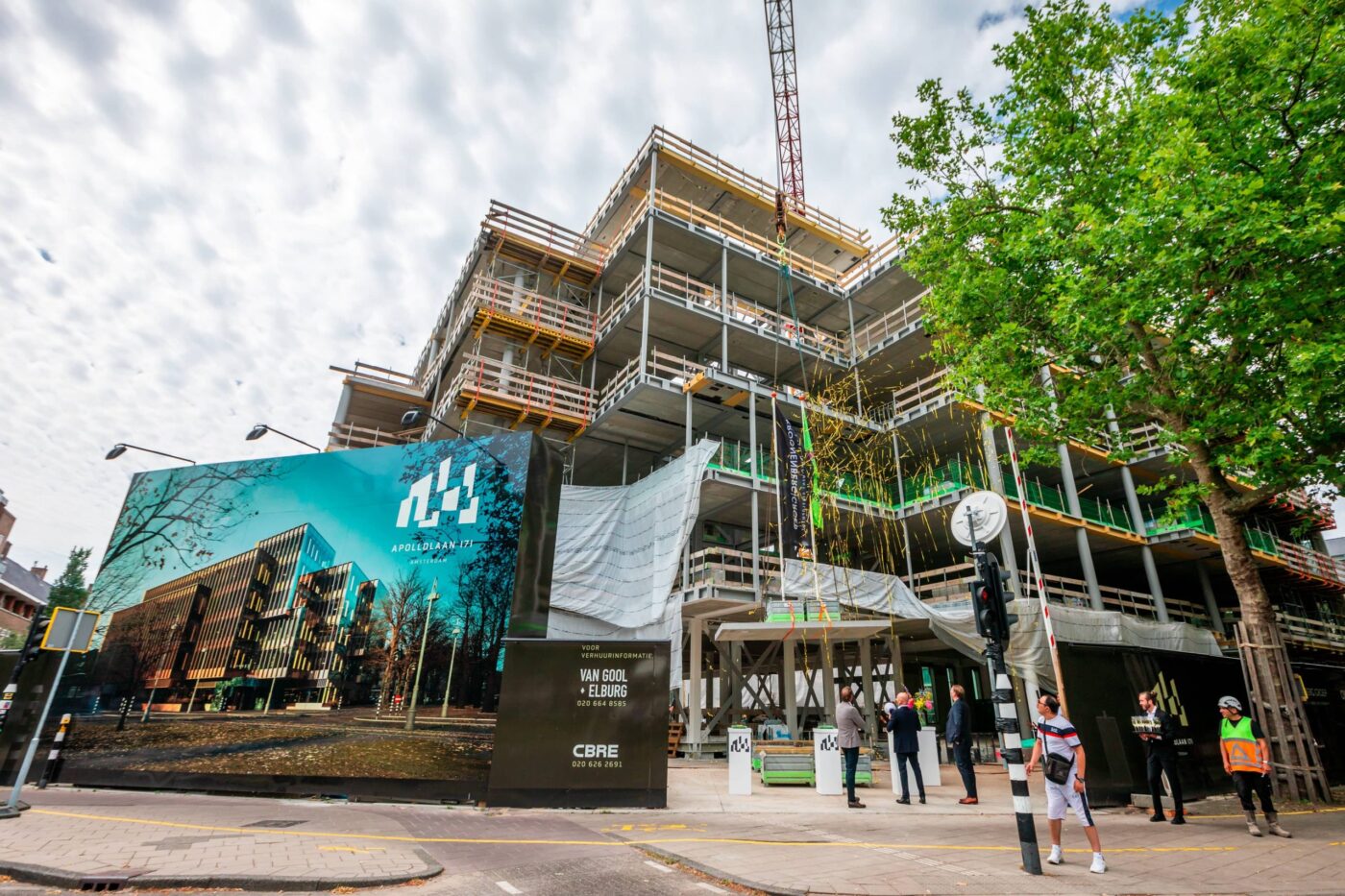 14-07-2022
APOLLOLAAN 171 BUILD REACHES ITS HIGHEST POINT
At Apollolaan 171, Kroonenberg Groep is developing a state-of-the-art office building. J.P. van Eesteren started the construction work in the autumn of 2021 and today the building reached its highest point. That moment was celebrated with the installation of the final lift cover plate during a ceremony attended by the architect, contractor and developer.
Apollolaan 171 is situated at a wonderful corner location close to luxury hotels, homes and high-end offices. The design is transparent and responds to its environment, which is defined by Berlage's historical architecture from the early 20th century. The side of the building facing Apollolaan is characterized by interlocking glass volumes. The transparency that this creates visually draws the greenery of the environment into the interior. The main entrance to the office building is on the corner.
As Lesley Bamberger, CEO of Kroonenberg Groep explains, "It's very special to see how quickly the new building's contours became apparent here. We look forward to seeing a beautiful, finished building here soon."
Marco Peppel, director of J.P. van Eesteren, adds, "This project is an example of fantastic and high-quality architecture. As builders we naturally want the finished building to be just as beautiful as what it looked like on paper. That's what the team is working so hard to achieve. When you reach the highest point, it's nice to reflect with everyone involved on what we have managed to achieve together."
The development of Apollolaan 171 will eventually consist of 6,600 m² of office space for rental purposes, with parking in the basement for cars, scooters and bicycles. The building is scheduled to be completed in mid 2023.