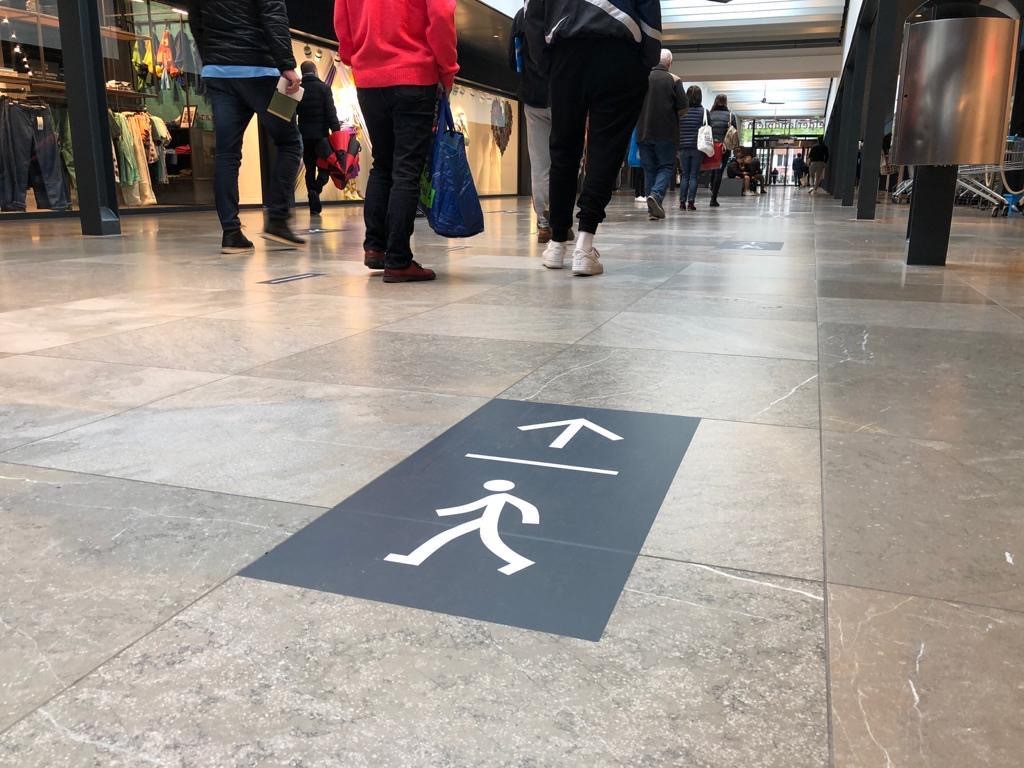 07-05-2020
SHOPPING CENTRES 1.5 METRE-PROOF
Kroonenberg Group has made adjustments to its three shopping centres – Gelderlandplein shopping centre in Amsterdam, the Barones in Breda, and Hilvertshof in Hilversum – to meet the social distancing measures that are now required to keep everyone at least 1.5 metres apart.
The first important consideration in this regard was to introduce a clear pedestrian routing system by means of floor stickers. In this way, the shopping public can safely navigate through the shopping centre. Since the basic design for the shopping centres was already spacious, all the walkways can easily accommodate a two-way pedestrian route. When entering the shopping centre, visitors are informed of this clearly marked routing system and will find it very easy to follow.
They will then notice the 'wait here' stickers including the shop's logo that have been created for each shop. It is thus clear to visitors as to where they should wait once that store's quota for visitors has been reached.
Lesley Bamberger, CEO, Kroonenberg Groep: 'Together with the entrepreneurs, we determined how many stickers they would need as well as where the stickers should be placed as based on the routing system and the amount of space in the mall. This will allow visitors to wait their turn while passers-by can safely go on their way.'
In addition to these visible measures, some less conspicuous measures have been taken as well. Cleaning personnel may not always be clearly visible in the various centres but they are now making more frequent rounds and paying extra attention to their cleaning duties. The toilets are also being cleaned more frequently on an ongoing basis. Convenience and hygiene are thus top priorities. Hand cleanser dispensers are also available at central locations in the centres.
To communicate the new measures, Kroonenberg Groep has hired hostesses to draw visitors' attention to the new routing system. Last week, the hostesses at Gelderlandplein wore a 1.5-metre shield around themselves: an amusing way of making people even more aware of what 1.5 metres looks like. During more busy times in the centres, the hostesses will be available, when needed, to draw the public's attention to the 'wait here' stickers and to help alleviate any bottlenecks. Security personnel will also be on hand at all times to keep an eye on things.
Lesley Bamberger: 'We want the shopping public to feel safe while shopping, so we're doing everything possible to give them this feeling. Considering the positive reactions we have received until now, I think we are succeeding very well. Along with our on-site property managers, we are also remaining alert to current developments so that we can adapt quickly should we have to take extra measures.'