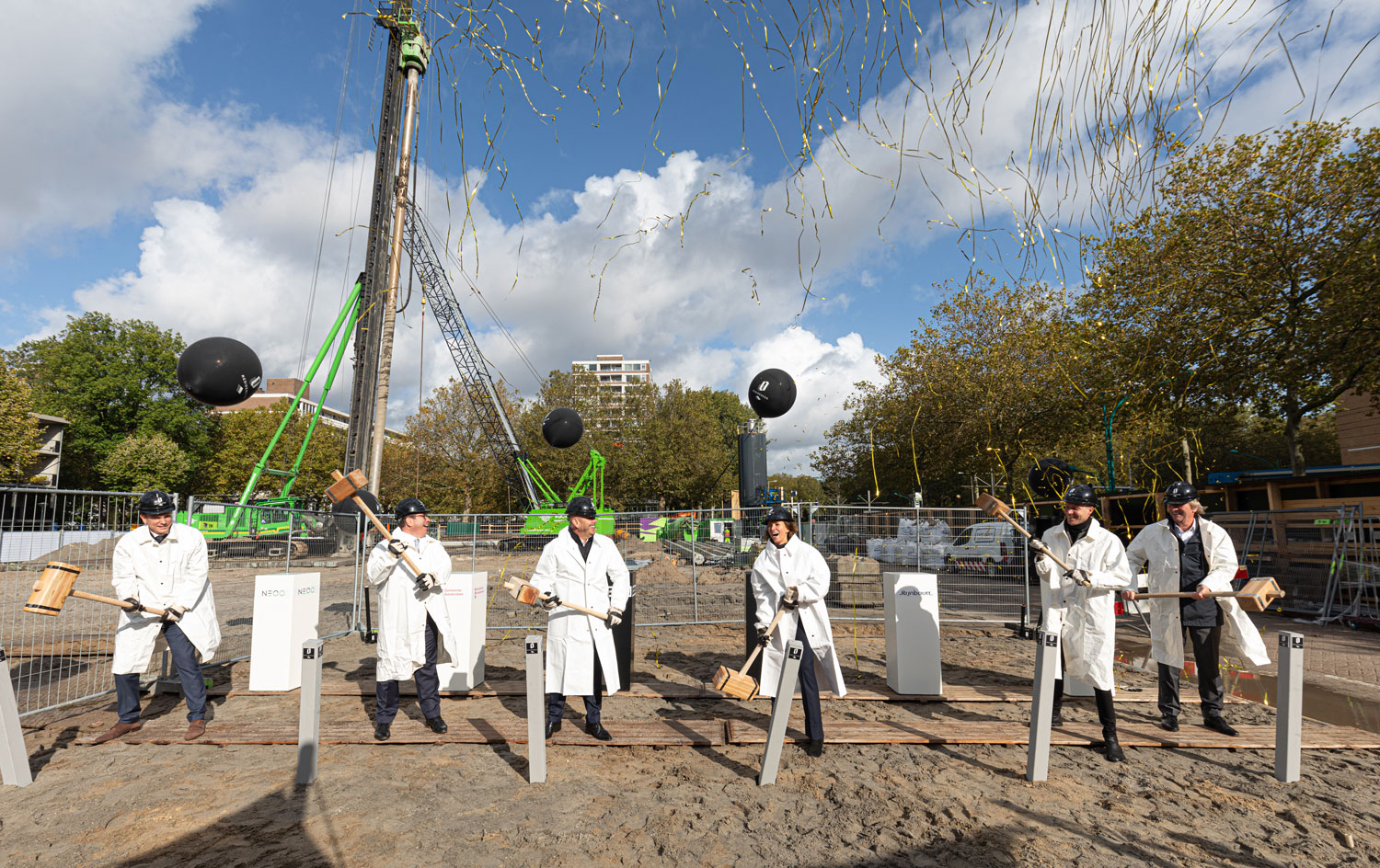 11-10-2019
KROONENBERG GROEP HITS FIRST POLE FOR DEVELOPMENT RESIDENTIAL COMPLEX AMSTERDAM
Kroonenberg Groep, together with all the partners involved, has hit the first pole of the development of the residential complex on the Buitenveldertselaan in Amsterdam. The name of the development was revealed with the first post: Q Residences.
Q Residences consists of two residential buildings designed by internationally renowned architecture and urban design firm Studio Gang. The northern high-rise Quartz is a landmark; an iconic design that re-imagines the orthogonal buildings of the neighborhood. The southern low-rise Qube completes the picture: a plaza between them and retail at the ground floor creates a mixed-use community in a perfect location with high-quality architecture.
In addition to director Lesley Bamberger of Kroonenberg Groep, the official operation of the first pole was carried out by Jeanne Gang, Founding Principal of the architectural firm Studio Gang, Frederik Vermeesh of the local architectural firm Rijnboutt; Sander van Os from co-developer NEOO; Ton Vaags from contractor JP van Eesteren and Sebsatiaan Capel on behalf of the Municipality of Amsterdam.
Lesley Bamberger: "It is a special moment to hit this first post, with which construction will officially start. With all the partners who are closely involved in this, we are very much looking forward to seeing a new icon of the city here in 2.5 years. "
Sebastiaan Capel chairman of the Amsterdam South executive committee: " I am extremely happy that such a great project has been launched here: 248 homes, of which 99 are mid-rental properties, for hundreds of new residents of Amsterdam-Zuid. Thanks to the will of Kroonenberg Groep to invest in the city and the good cooperation with them, there is a wonderful plan. I look forward to welcoming the residents when it is realized. "
Jeanne Gang: "It is a historic milestone for Studio Gang to break ground on our first building in Europe. I am grateful for our extraordinary team of architects, engineers, city officials, and client who shared our vision for a bold and highly sustainable architecture to address the urgent need for housing in Amsterdam."
The residences in Q Residences are expected to be delivered in Q2 2022.