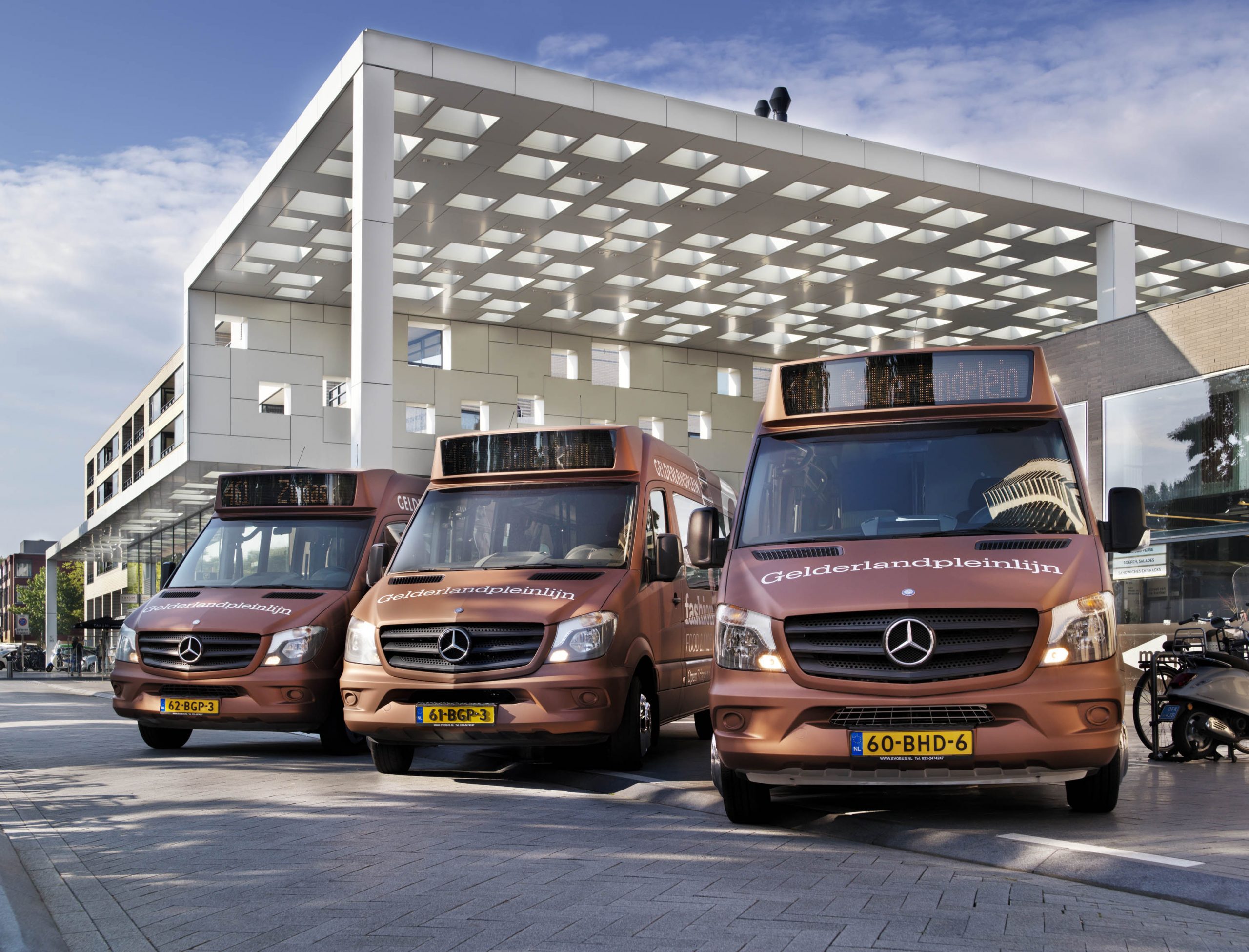 05-09-2017
FREE PUBLIC TRANSPORT TO/FROM GELDERLANDPLEIN EXTENDED
Wherever they are on the Zuidas business district and in Amsterdam-Buitenveldert, office personnel, residents and secondary school pupils had already been able to hop onto buses equipped with every convenience, including wifi, to get to and from the Gelderlandplein shopping centre. Since Monday, 4 September, tourists, students, residents and workers have also been able to use the free Gelderlandplein busline travelling from Buitenveldert-Oost to the VU Amsterdam.
And, due to the tremendous success of the Gelderlandplein line, Kroonenberg Groep, the GVB public transport company in Amsterdam, and authorities of the Amsterdam Zuid urban district expanded this busline by adding two more routes that started running on 4 September 2017. Line 464 uses Boelelaan and A.J. Ernststraat to connect the Zuidas business district and Gelderlandplein with Beneluxbaan between Novotel and Holiday Inn in Buitenveldert-Oost. Lijn 465 travels in the opposite direction, thus giving people at the VU Amsterdam a quick way to get to the shopping centre and the Zuidas. The frequency of both routes is three times an hour, the buses being operated by the GVB urban transport company for Kroonenberg Groep, the owner of the Gelderlandplein shopping centre.
On Monday, 4 September, the new buslines were waved off on their first journeys by Lesley Bamberger, CEO, Kroonenberg Groep; Paul Slettenhaar, district council administrator; and Alexander ten Have representing the GVB.
Lesley Bamberger: 'The Gelderlandplein line has proven a great success and generated more demand from people in the district for the buses to serve a larger area. By realising this now, we're also making Gelderlandplein even more accessible.'
Paul Slettenhaar: 'This busline is a unique example of a public/private collaboration. This special public transport facility is making all the important destinations in Buitenveldert easily to reach. Kroonenberg Groep, GVB, Amsterdam Zuid and all of us in the district who were involved in this project have made this possible.'
Alexander ten Have: 'The success of this collaboration has been demonstrated, and we are pleased that we could follow up on it by providing another two routes. This pooling of private and public expertise is providing our passengers with a creative and appropriate mobility solution.'
An app has been developed that shows where the next bus on the Gelderlandplein line is and how long a passenger will have to wait for it. Information about the busline has also been included by GVB, and its timetable is available at the GVB website and on the 9292 app.